While everyone is fascinated by cryptocurrency trading they're failing to notice an equally important disruption also taking place. This is sort of a parallel, disruptive process born out of the need for technical skills in the fast-growing industry. The fourth quarter of 2017 saw a surge in cryptocurrency demand and in line with this revolution came the evolution of the best jobs for blockchain startups.
Look:
The market is just warming up and you can predict that things are just about to get highly intensive. With more and more people embracing cryptos as both a mode of transaction and a store of value, we are likely to see even more traction around the cryptocurrency buzzword.
Already a number of online platforms that deal with cryptocurrency are reporting slowdowns owing to the surging demand. That alone highlights a potential entry-point for anybody looking to leverage on the many opportunities available in this industry.
The future is really bright for anybody with skills in blockchain and other crypto technologies, but DevOps skills will also be needed. We're talking about demand from startup companies looking to integrate Bitcoin payments into their existing systems, cybersecurity and so forth.
Blockchain Startup Jobs
The best blockchain jobs for startups are not just the usual kind we read about on Dice or LinkedIn. In reality, the industry is quite vast and you can bet it will continue to gather momentum for the next few years. So, besides the current media hype, there are 100s or 1000s of opportunities yet to be explored as far as blockchain is concerned. So, which are some of these new developments that we all need to be taking full advantage of?
Well, first off, going forward, the demand for building and supporting data services is going to dictate the direction algorithms are going to take. That, of course, means a departure from the traditional ways of doing things into a new and modernized way of managing databases, backup, DR solutions and storage platforms. How this influences the current status-quo for DBA especially in the era of cloud computing is something certainly worth investigating.
Well, for a fact, I believe DevOps engineers are going to be the biggest beneficiaries of this revolution.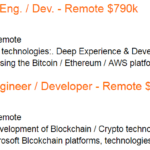 The screenshot above is only a sample of what jobs are current available. Does this excite you? Here's where you can see more blockchain startup jobs like these.
Now:
Even though the current way of architecting infrastructure is likely to be around for a few more years to come, you can bet that the need for advanced technology like decentralized networks will need a new way of thinking. What better way to be prepared for what's coming than by getting yourself fully loaded with DevOps engineering skills?
Opportunities for DevOps staff will continue to expand especially with the demand for quick bug fixes, the need to speed up applications and so forth. Besides that, you can expect that so many startup companies will be set up in the cloud over the next couple of years. As a DevOps engineer, you will be best placed to help such startups find their footing in an otherwise highly volatile marketplace.
Think of the likes of Bitcoin, Ethereum, Ripple, Cardano, and Litecoin – just a few months ago, these were unknown brands. But, today,  every talking head from YouTube to CNBC is discussing them. As the industry moves forward, welcoming these startups focusing on providing crypto services in this dynamic space, we can look forward to awesome job opportunities in an emerging technology.
Besides DevOps engineering, other fields likely to continue in an upward surge in skill demand include cybersecurity, cryptography, data science,  blockchain development, and investment strategy.
In other words, the future looks up for anybody seeking to gain valuable experience working in a fast-paced new world. So, the question is, are you positioning yourself for the best blockchain jobs? If you're not, then it's high time you stop limiting your focus on the thrill of trading and mining cryptos and start focusing more on gaining valuable skills that will give you a competitive edge now and in years to come.
Doing this, will not only true-up your skill-base but also make sure you're more confident and that hiring managers can always count on you to provide solutions that make their startup succeed, while hopefully making the world a better place.
The disruption is happening. You can't go wrong by polishing up your skills and putting your best foot forward moving ahead. That's what smart people do.